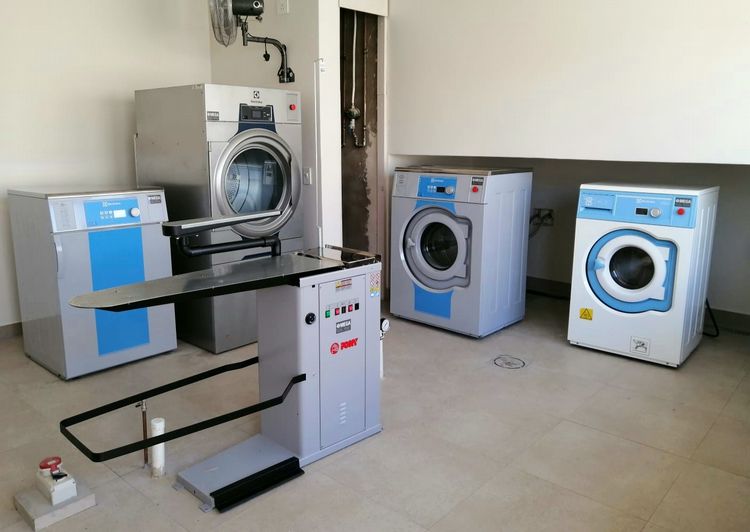 RECENT INSTALLATION
14 May 2021
Recent Installation
01 x PW9 - Electrolux Industrial Washer, 300G, 9KG
01 x W5105H - Electrolux Industrial Washer, 450G, 11KG
01 x T5190 - Electrolux Industrial Dryer, Axial Airflow, REV, RMC, 10KG
01 x TD6-14 - Electrolux Industrial Dryer, Axial Airflow, REV, RMC, 14KG
01 x FVC - PONY Industrial Finishing Table, Vacuum, Boiler, Hand Iron
01 x GMP140T - GMP Flatwork ironer, 1400 x ∅ 250mm, Tenax

Reason
This new retirement village wanted an industrial, resource efficient and long-term solution for their new on premise laundry. They also needed equipment that could sanitise and disinfect their linen so that their residents would be given the best care and hygienic facilities. By choosing two different capacity Washer and Dryer sets, they gave their laundry the flexibility to handle different load sizes and ensure that resources were utilised optimally.
The FVC finishing table has a plumbed, built-in boiler which will provide constant steam for the perfect finish of personal garments.
The GMP140T Ironer has Tenax stainless steel spring padding which provides a superior finish and never needs to be replaced during the life time of the machine, unlike steel wool padding which will compress over time and require replacement.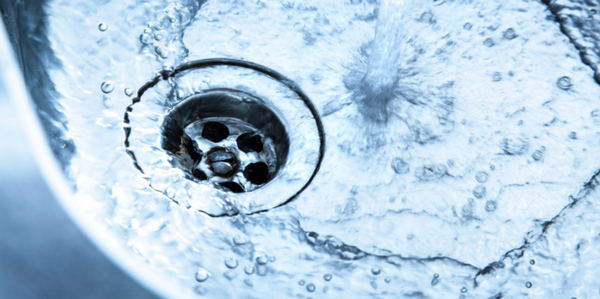 Would you like to save Water, Electricity and Chemical costs for your Laundry?
28 April 2021
With the cost of water increasing and the Eskom tariffs continuing to rise, businesses are either looking at alternative methods of energy, or how to reduce their current monthly consumption. In the laundry industry, you can counteract these price hikes, by purchasing equipment that has been proven to be the most resource efficient equipment on the market.
Water Savings:
Electrolux industrial washing machines can lower your water consumption by up to 40%.
Electrolux washers, feature a built-in Automatic Water Saving (AWS) technology which determines the exact weight of the load and adds the precise amount of water for best results. This significantly reduces water consumption and energy costs. Other brands fill up the washer to the same water level for each cycle, no matter how much laundry is in the machine. In our experience, washers are loaded at 60-70% of the machines capacity which wastes a tremendous amount of water and money. AWS solves that problem. It's an incredible software feature available only on Electrolux industrial washing machines.
The Electrolux Washers also feature the Compass Pro microprocessor, which enables MEGA's technical team to easily adjust parameters such as water levels, temperature, and drum action to lower your resource use and costs. They also have a high speed extraction range. If you would like to make your laundry operation faster to process more volume, save time for your employees and customers and save electricity in your Dryer, Electrolux offers Washers with 450G extraction. The 450G Washers high water extraction ensures that your clothes or linen have less residual moisture when taken from the Washer, therefore saving drying time and electricity.
Dryer Savings:
Electrolux Dryers can help your business benefit from the energy saving features. Not only is our line of industrial laundry equipment environmentally sustainable, but your business will immediately notice utility cost savings, making these machines a great long-term investment.
How do our Dryers save you money?
Axial Airflow

– Electrolux Dryers

benefit from an advanced technology that consistently reduces drying times and increases savings on energy. With axial airflow, instead of the standard radial airflow, this superior airtight design uses heat more efficiently, by entering the drum from the back, rather than skirting around the drum from the top, which dissipates the warm air.

Residual Moisture Control (RMC)

- The RMC drying feature measures the moisture level of a load of laundry throughout the drying cycle, automatically stopping the dryer when the optimal "dry" level is reached. This helps to prolong the life of linens and clothes by eliminating over-drying, as well as providing savings in electricity costs. Electrolux RMC settings can be customised per cycle.

Reversing Drum

- Drums that reverse periodically throughout the drying cycle help to prevent tangling/balling, helping clothes/linen to dry quicker, with lower energy consumption and less wear-and-tear. This feature saves 7-10 minutes per cycle.
Chemical Savings:
Electrolux offers a product called Efficient Dosing System (EDS). EDS adjusts detergent according to the weight of the load in the Washer, which improves wash results and reduces detergent costs. With the EDS your laundry solution will be more cost efficient than ever. EDS allows the washer and the detergent dispensers to communicate effectively and calculate the precise amount of detergent based on the load weight and selected wash program. The system also gives you access to statistics to help you control costs, via the USB connection.
If you would like to know more about how our products at MEGA and how we can assist you in saving huge amounts of Rands in resources, please feel free to contact us on 010 900 4998, 021 180 4998, 031 563 7273 or info@megalaundry.co.za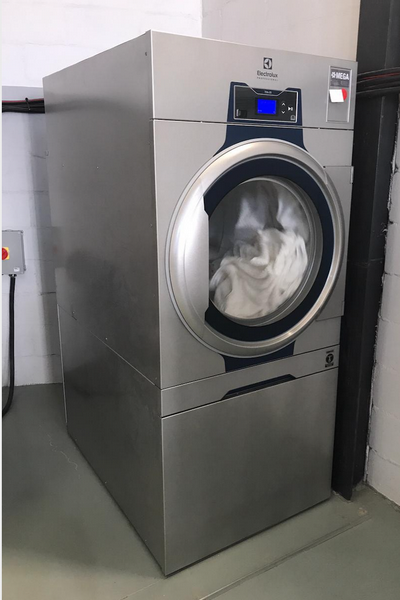 RECENT INSTALLATION
29 March 2021
An exciting installation and new product for the South African market. The first ever Electrolux Heat Pump Dryer installed in Africa.

01 x TD6-20 - Electrolux Industrial Heat Pump Dryer, 20kg
This customer was looking for a solution that would generate huge energy savings and require minimal energy input. Electrolux Heat Pump Dryers use up to 60% less energy than traditional vented Dryers, drastically reducing our clients electricity bill. They also only require single phase power to run and they don't need any ducting and therefore can be placed in any room of the building.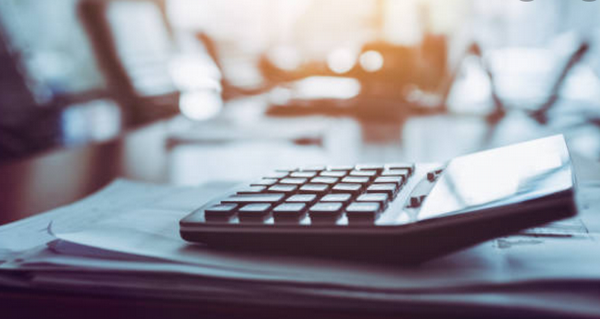 RENT TO OWN EQUIPMENT FINANCE
5 March 2021
We are
pleased to announce the introduction of a new product to the market. It's called CapitalPlus and it's a finance option for all commercial and industrial Laundry equipment.
CapitalPlus is a structured rental asset solution for your laundry equipment needs. It is a Rent to Own plan, with a one, two
or three-year option.

If you are currently outsourcing your laundry work, struggling with Cashflow or you have a laundry with old equipment, why not consider CapitalPlus as your way to finance your own equipment.

If you answered yes to any of the below, CapitalPlus is for you.
Tired of outsourcing costs?

Tired of poor wash results?

Tired of missing laundry or receiving back damaged linen?

Tired of unreliable equipment and constant repairs?

Wanting to save energy, water and chemicals?
Benefits of Financing
No capital outlay, so your cashflow is not affected.

Easy to budget on a fixed monthly cost for the full term of agreement.

Rentals are tax deductible from pre-tax income.

Rentals are fixed, regardless of interest rates.

No personal guarantees or surety is needed.

Early settlement can be done at no extra fee.

Ownership for R1 after the period of the rental term.
What are the minimum requirements for CapitalPlus?
Minimum of 3 years in business.

Minimum of R3m turnover per year.

10% Deposit.

Lien from the Landlord, if your premises are rented.

Terms and Conditions apply.
To find out more about CapitalPlus and what it will cost you to purchase your own equipment on a monthly basis, please contact us on 010 900 4998, 021 180 4998, 031 563 7273 or info@megalaundry.co.za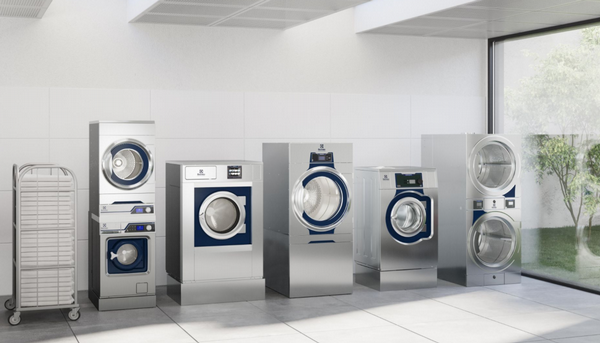 NEW PRODUCT LAUNCH
15 February 2021
MEGA is proud to announce the launch of the new Line 6000 laundry range from Electrolux.
Their intensive research and cutting-edge product development, results in an ergonomic line of Washer and Dryers that ensures effortless operation and exceptional resource savings.
To find out more about this industrial range of equipment, please contact us on the numbers or e-mail address at the bottom of our website page.

Loading...
Thanks for reading, check back soon for more articles...